When my partner and I were planning our wedding, I knew that I wanted to be able to design many of the elements for our day.
We had chosen teal and pink as our colors, with grey as the base neutral. Thematically, the designs were planned around the idea of an elegant enchanted forest. After all, our cake toppers were a Venusaur and Totoro – forest creatures that matched our theme and our interests.
I designed a logo that incorporated aspects of our interests into a heart – Batman wings, a pokeball, and a small crown. This logo was used across several wedding design elements, creating a common branding "stamp" for our day.
---
I also developed, printed, and assembled our invitation bundles, which included the invitation, information for guests, the RSVP card and its envelop, all wrapped in a styled paper ribbon with a front piece to serve as the "bow".
I was enamored with the design having a square shape, which proved quite hard to find appropriate envelope sizes for. I was unable to locate grey envelopes in the appropriate shape and size like what are pictured in my original planning mockup. However, this turned out to be a blessing. I had the white square envelopes printed with the branch pattern used across all of the designs, and had the guest's names and addresses printed to each envelope in the font used across the designs. Working with the available materials actually helped me create an even better design!
---
There are many design elements that go into a wedding – and I was committed to creating each of them. Each table was numbered with a custom designed card attached to a vintage book (we had met in a library!), and each card's design element and quote had a story. Guests were encouraged to "guess" why their table had a particular design, and a designed key was provided at the front table if they wanted to see if they were correct. For example, the design shown here incorporated an image of Venusaur, who shares a color palette with the wedding and is my favorite Pokemon – and Venusaur's Pokedex number is 3.
Additional designs included the program provided at the service, labels for a self-service candy bar; informational displays about the photo booth, candy bar, and guest book; a slideshow projected on the wall of the reception venue; and thematic blank thank you cards to fill out after the wedding.
---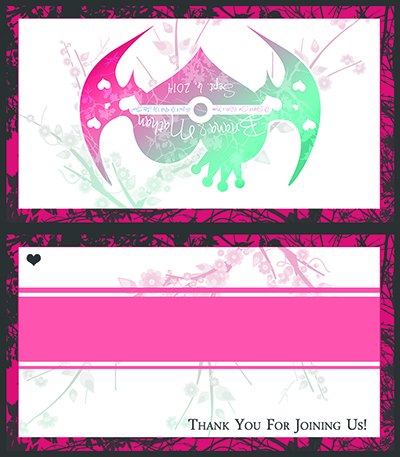 My wedding was also an opportunity to consider using custom design work to enhance the experience of the day.
I had wanted my guests to be able to sit wherever they liked at the wedding, but we had multiple entree options – which would prove difficult for servers to bring the correct plates. This hurdle was overcome with a color coding system. Each wedding dinner card was printed with the guests name, but the colored band the name was written in signified the entree. Venue staff were provided the color key for what entrees corresponded to each color: Chicken, Beef, or Special Dietary. This also provided a sheet to list the special dietary information required.
This design solution allowed for guests to sit wherever they liked with their name card in front of them, allowed the name card to be a conversation aid in chatting among guests, and gave the venue staff an easy cue for entrees by table in the color key.
---
While I may look back and see aspects of these designs I would do differently now, I am quite proud of the designs I created for my wedding, and they helped to craft the experience of the day that I desired for my guests. This work even resulted in requests to assist others with their invitation designs as well!